Today is a national holiday in which we honor all those who have served in our military. I thought I'd give a little background to when the holiday first began 100 years ago.
This holiday was originally known as Armistice Day to commemorate the signing of the peace treaty in which Germany agreed to the terms to end World War I on November 11, 1918, at 11:00.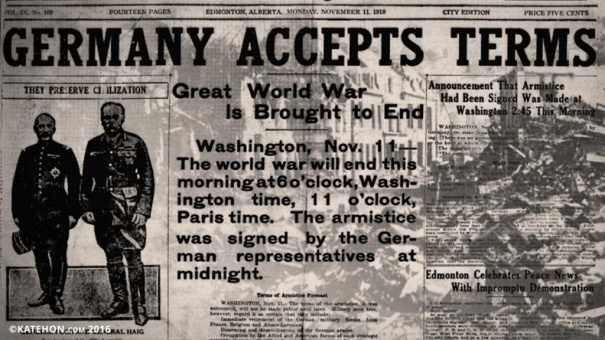 On November 11, 1919, U.S. President Woodrow Wilson issued a message to his countrymen on the first Armistice Day, in which he expressed what he felt the day meant to Americans:
ADDRESS TO FELLOW-COUNTRYMEN
The White House, November 11, 1919.
A year ago today our enemies laid down their arms in accordance with an armistice which rendered them impotent to renew hostilities, and gave to the world an assured opportunity to reconstruct its shattered order and to work out in peace a new and juster set of international relations. The soldiers and people of the European Allies had fought and endured for more than four years to uphold the barrier of civilization against the aggressions of armed force. We ourselves had been in the conflict something more than a year and a half.
With splendid forgetfulness of mere personal concerns, we remodeled our industries, concentrated our financial resources, increased our agricultural output, and assembled a great army, so that at the last our power was a decisive factor in the victory. We were able to bring the vast resources, material and moral, of a great and free people to the assistance of our associates in Europe who had suffered and sacrificed without limit in the cause for which we fought.
Out of this victory there arose new possibilities of political freedom and economic concert. The war showed us the strength of great nations acting together for high purposes, and the victory of arms foretells the enduring conquests which can be made in peace when nations act justly and in furtherance of the common interests of men.
To us in America the reflections of Armistice Day will be filled with solemn pride in the heroism of those who died in the country's service, and with gratitude for the victory, both because of the thing from which it has freed us and because of the opportunity it has given America to show her sympathy with peace and justice in the councils of nations.
WOODROW WILSON   source: https://en.wikipedia.org/wiki/Veterans_Day
IDEAS TO OBSERVE AND TEACH THIS DAY:
Call someone you know who is serving or who has served in the military and say thank you for their service to our country.
Make a card or write a letter to a veteran.  Operation Gratitude
Visit a veteran and make or take a treat to them. (cupcakes or cookies decorated with red, white, and blue frosting?)
Social Studies: Read and discuss the above speech that President Wilson made. It's always a great idea to look at an original source document instead of reading about it secondhand.
Questions to investigate:
What were the terms of the treaty?
Who signed the treaty?
Where was it signed? Why was this location used for the signing of the treaty? Why use a train car and not a building?
What is a primary source document? secondary source document? Here is a resource that you can purchase that is all ready for you to use: Primary and Secondary Sources
Language Arts:
Notice that Veterans is a plural and not a possessive noun. Have a grammar lesson to explain this.
For your older students, you can introduce vocabulary such as armistice, peace treaty,  memorial, sympathy, gratitude
Math: How many countries were involved in The Great War? How many people died during the war?
Health: Many people died after the war due to the Spanish Flu. Discuss disease prevention. You can read about it and see primary source documents here-  Spanish Flu
If you or a family member has served in the military, here is a list of restaurants that have free meals today: FREE MEALS
My deepest thank you to you who have served us in a military capacity.  Happy Veteran's Day! ~ Lisa ~